Surgery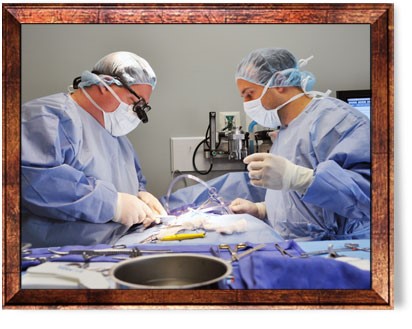 We perform all routine elective surgeries (spays and neuters) at competitive prices. Our prices already include a pain injection, an antibiotic injection and safety precautions like an IV catheter at no additional cost to you. Every pet receives a comprehensive examination by the veterinarian in the morning. Bloodwork is always highly recommended prior to anesthesia to ensure we reduce all possible risk before the procedure.
All pets are closely monitored with trained veterinary technicians and a doctor. Our anesthesia equipment includes blood pressure monitoring, oxygen saturation, heart and respiratory rates, and temperature. We induce pets with propofol and we maintain anesthesia with either sevoflorane or isoflorane gas.
Our veterinarians can perform a wide array of surgeries including mass removals, amputations, enucleations, entropion, ectropion, laceration repairs, hernias, abscesses, exploratory surgery and biopsy, splenectomy and bladder surgery.
We also have a board certified surgeon perform all of our orthopedic surgeries (torn cruciate ligaments, major fractures and MPL surgeries.)
Common Surgeries
Spay/neuters
Mass removals
Laceration Repair
Amputation
Enucleation
Cystotomy
Intestinal Surgery
Gastropexy
Gastrotomy
Explore Laparotomy
Medial Patellar Luxation
ACL/cruciate surgery
Splenectomy
Anal sacculectomy